? A.S.A.P  ?
As Soon As Possible ...
Aussi Vite Que Possible !

Transport of persons by scooter.
Don't waste anymore time in traffic jams ...

More efficient, more fun and cheaper than a 4 wheels taxi !

Passenger totaly equiped if necessary : bluetooth(r) helmet with disposable hygienic protection, gloves, and in case of bad weather : coat,  trousers and shoes protections.

ASAP-69 (*) rapidly links differents parts of  Lyons area.

(*) As Soon As Possible

MOTORCYCLES WITH DRIVER
ASAP-69 SCOOTERS works with his colleagues for more efficiency and better service


The PRESS speak about US
Press topic published in the "Economy pages" in the newspaper "Le Progres", Tuesday, September 22 - Click on the picture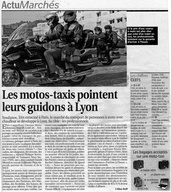 Delivery of urgent mails and small parcels
ASAP-69 is also a spot delivery service (*) for urgent mails and small parcels.

Attractive prices, quick service, security ...

IT'S NEW
ASAP-69 réalise également des prestations informatiques (maintenance, création de sites internet) en "environnement PC". Vous pouvez nous contacter au 06 13 03 03 63 pour tout renseignement.

Contact us
Send us your message. Let us your coordinates, you will be informed of each modification.